Step 1 > Register a user name and password
The Whitehaven Contractor Management System to register your business can be found by selecting the button below.
Start by entering a user name of your choosing, plus your email address and a password. You'll be emailed confirmation.
Step 2 > Register business details and answer profile questions
Using your new details, login to the Whitehaven Contractor Management System.
Follow the process to register your business by answering profile questions and selecting the insurances and licences you can supply to support your registration.
Step 3 > Pay for registration

The costs outlined below are determined by the complexity and verification needed for your business registration.
Class A contractors: $200 + GST every 3 years + $150 every year.  Year 1 total cost: $200 + GST.
Class B contractors – $400 + GST every 3 years + $150 every year. Year 1 total cost: $400 + GST.
Class C contractors – $600 + GST every 3 years + $150 every year. Year 1 total cost: $600 + GST.
Subcontractors – $150 + GST every year
For each site your company will be working on, there will be a once-off $25 + GST charge per site.
Step 4 > Upload insurances and licences
You will be prompted to upload copies of the licences and insurances you selected in step 2 for verification. Depending on the work your business does, you'll be prompted to upload the following: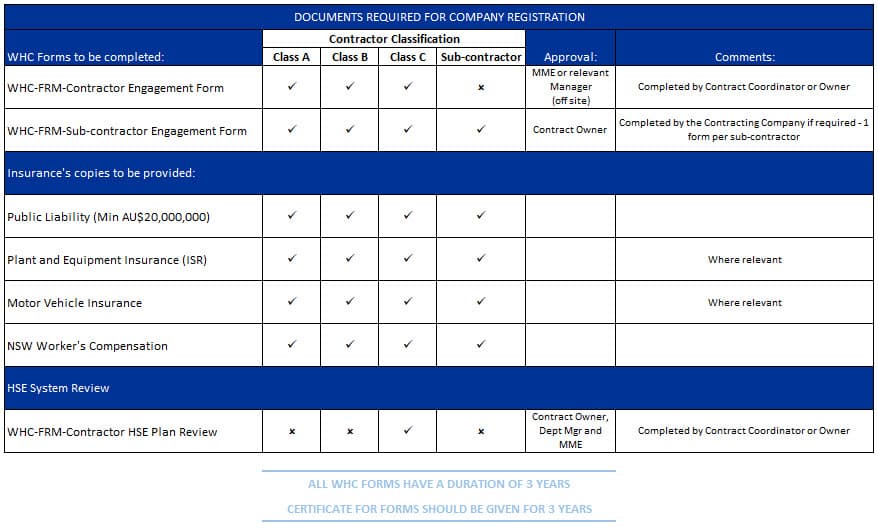 Step 5 > Complete a Safety Management System (SMS) review if required, and finalise registration
The final step for company registration is to successfully complete a SMS review, an independent desktop audit of your Work Health and Safety documents by a qualified WHS professional. The documents you'll be asked to upload in the system for your SMS review depend on your category and may include, but are not limited to:
– WHS / OHS Policy
– Environmental Policy
– Risk Management Procedures
– Systems of Work process including incident management
– Drug and Alcohol management
– Emergency management
– Training procedures including induction management
– Sub-Contractor Management (if applicable)
– Continual improvement processes
More information about SMS reviews can be found on the Documents & FAQ's page.
On successful review and document verification, you will be emailed that your company registration is complete.
To complete your registration, you will next register your workers, purchase their site access cards, and book their inductions.